Severus II

As Caesar 305-306 AD
As Augustus 306-307 AD
---
Flavius Valerius Severus was a soldier initially from Illyria. He was a close friend of Emperor Galerius, who raised him to the rank of Caesar in August 305 AD upon his rise to the rank of Augustus. Thus, Galerius sought to gain a stranglehold over the reigns of power and isolate Constantius I Chlorus since the second Caesar within the Tetrarchy was Maximianus II, who was also one of his strong supporters. To strengthen his position further, Galerius held Constantius's son, Constantine the Great, hostage at his court.
Severus' domain was Italy, Africa, and later Pannonia. Upon the death of Constantius I at York in Britain, Galerius attempted to gain complete control by raising Severus to the rank of Augustus in the West to replace Constantius and raised Constantine to the rank of Caesar, thus passing over Maxentius, the son of the former Emperor Maximianus who at the time was in retirement.
In 307 AD, Maxentius led his own revolt, drawing on the unpopularity toward Galerius in the wake of Diocletian's reforms, which had removed the tax-free status of Rome. This underlying economic resentment within the scope of a tax rebellion was further strengthened by the loyalty of many in the Legions and continued to express toward his father, Maximianus.
Galerius sent instructions to Severus, ordering him to march upon Rome and depose Maxentius. By this time, Maximianus came out of retirement, and many of the troops under the command of Severus held their loyalty to Maximianus. His campaign was a complete disaster, and Severus fled to Milan, where he surrendered to Maximianus. When Galerius himself set out to meet Maxentius on the field of battle, Severus was executed.
Thus, the brief imperial career of Flavius Valerius Severus spanned a mere two years, from his promotion as Caesar at the time of Maximian's abdication (May 305 AD) to his capture and execution by Maxentius in the summer of 307 AD. Severus' premature elevation to the rank of Augustus on the death of Constantius in July 306 AD had proved to be his death warrant. It is ironic, therefore, that a common reverse design on his coinage, Fides Militum (the "Loyalty of the Army"), was most inappropriate given the predicament in which he found himself with his own troops expressing a strong loyalty to the leader of the Legions he was to confront.
---
Monetary System
Mints: Alexandria, Aquileia, Antioch, Carthage, Cyzicus, Heraclea, London, Lugdunum, Nicomedia, Rome, Serdica, Siscia, Ticinum, Treveri
Obverse Legends
As Caesar
SEVERVS NOB C
SEVERVS NOB CAES
SEVERVS NOB CAESAR
SEVERVS NOBILISSIMVS
FL VAL SEVERVS NOB C
FL VAL SEVERVS NOB CAES
As Augustus
SEVERVS AVG
SEVERVS AVGVSTVS
IMP C SEVERVS P F AVG
---
DENOMINATIONS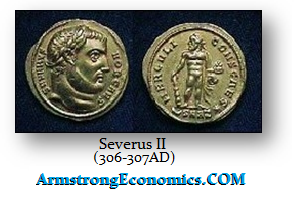 As Caesar
AU Aureus (6.54 grams)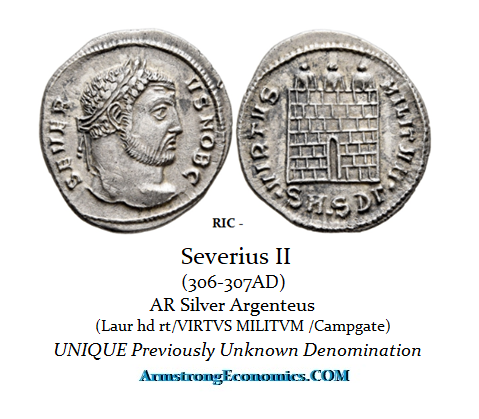 AR Argenteus (UNIQUE)
Æ Follis
Æ Antoninianus
Æ Denarius
Æ Quinarius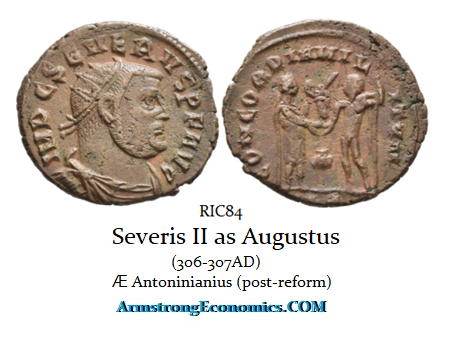 As Augustus
AU Aureus (6.54 grams)
Æ Follis
Æ Antoninianus
---
Monetary History of the World
©

 Martin A. Armstrong