TETRICUS I

270 – 273 AD
Last Emperor of Gallic Empire
---
Gaius Pius Esuvius Tetricus was the last of the Gallo-Roman Emperors. Tetricus was Governor of Aquitama and had been a Senator from an old noble family. Following the death of Victorinus, Tetricus, through the influence of Victoria, the mother of Victorinus, was proclaimed Emperor. Almost immediately, he raised his son, Tetricus II, to the rank of Caesar.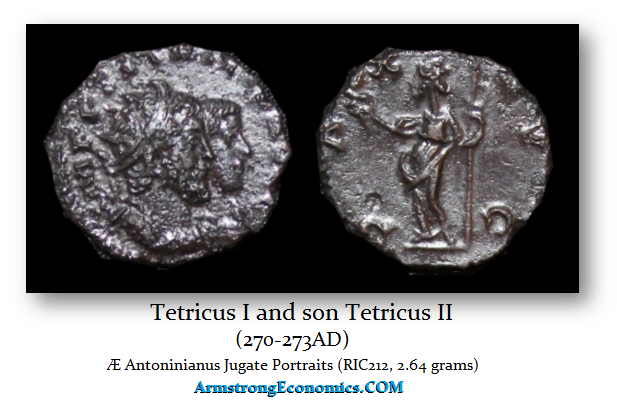 The Gallo-Roman Empire was in serious trouble. It faced constant difficulties with the barbarians along the Rhine. To make matters worse, Aurelian came to power in Rome and he was determined to retake the Gallo-Roman Empire and restore the glory of the past.
The fortunes of the Gallo-Roman Empire declined rapidly under Tetricus. The final blow came in 273AD when Aurelian invaded Gaul itself. At the battle near Chalons (east of modern-day Paris), Tetricus abandoned his troops and surrendered. The Empire had been pacified, and Aurelian could at last look forward to a splendid triumph in Rome. Aurelian spared the lives of both Tetricus and his son and even gave Tetricus a post in the government of Italy. The ex-Emperor spent the rest of his life in Rome, honored by Aurelian and his successors while his son became a Senator.
---
Monetary System
Æ Antoninianus
Mint: Vienna (?).
Obverse Legends:
IMP TETRICVS P F AVG
IMP C TETRICVS P F AVG
IMP C C P ESVVIVS TETRICVS AVG
---
DENOMINATIONS
AU Aureus
Æ Antoninianus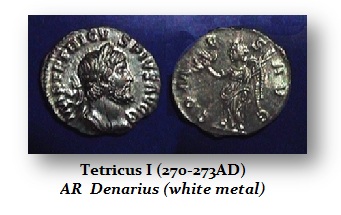 AR White Metal Denarius
(This silver denarius is most likely unique and is perhaps a donative issue struck as gifts for loyal members of his court and/or high ranking military officials) (see Claudius II and Florianus for the similar issue)
---
Monetary History of the World
©

Martin A. Armstrong