Aurelius Valerius Valens

314 AD
Appointed co-Emperor with Licinius I
---
Aurelius Valerius Valens was a general under Licinius I. The relationship between Constantine and Licinius had broken down. The two co-emperors were now headed into direct conflict with the victor destined to rule the Roman World.
Constantine and Licinius were to fight two major battles in 314 AD. The first battle was fought with no decisive outcome. Nevertheless, Licinius was convinced that in the second battle, he would emerge victorious. He was confident that Aurelius Valerius Valens was raised to the rank of Augustus to serve as Licinius' co-emperor.
The battle did not turn out as Licinius had expected. Licinius was forced to accept peace terms, and one of the conditions insisted upon by Constantine was that Valens would be deposed and put to death. Licinius agreed.
---
Monetary System
Mints: Cyzicus, Alexandria
Obverse Legends:
IMP C AVR VAL VALENS P F AVG
---
DENOMINATIONS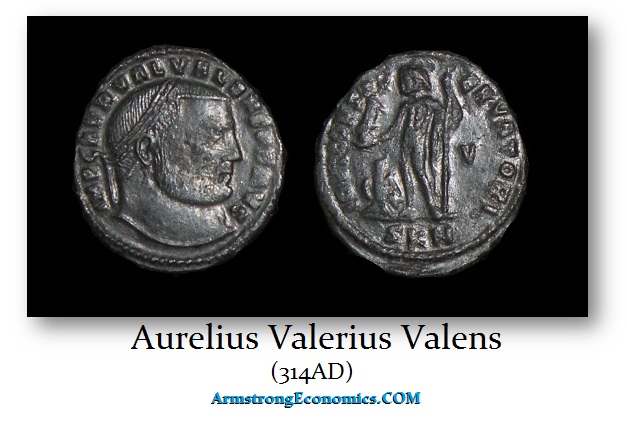 AE Follis
---
The Monetary History of the World
© Martin A. Armstrong