Tacitus

275-276 AD
---
There is little reliable information about Marcus Claudius Tacitus. It does appear that after the murder of Aurelian, the soldiers of the Illyrian army, wishing to dissociate themselves from the assassins, sent a request to Rome that the Senate should nominate the new ruler and pledged themselves to support their choice. After some delay, the Senate selected Tacitus, an elderly Senator who claimed descent from the great historian by the same name. Tacitus was thereby proclaimed Augustus.
One of the first acts of the new Emperor was to have Aurelian deified. He also appointed his half-brother, Florianus, as his Prefect of the Praetorian Guard.
Tacitus was seventy-five years of age at the time he assumed the throne. The new ruler soon joined the army in Thrace with Florianus at his side. Together they succeeded in repelling a Gothic invasion of Asia Minor. For this great victory, Tacitus took the title "Gothicus Maximus." On his way back, according to Historia Augusta, he would face other barbarians by the Frankish and Alamannic invasion of Gaul. Tacitus died of fever at Tyana in Cappadocia in June 276 as his exertions of this campaign, and the inclement climate proved too much for the aged Emperor. The historian Zosimus claimed Tacitus was assassinated after appointing one of his relatives to an essential command in Syria.
---
MONETARY SYSTEM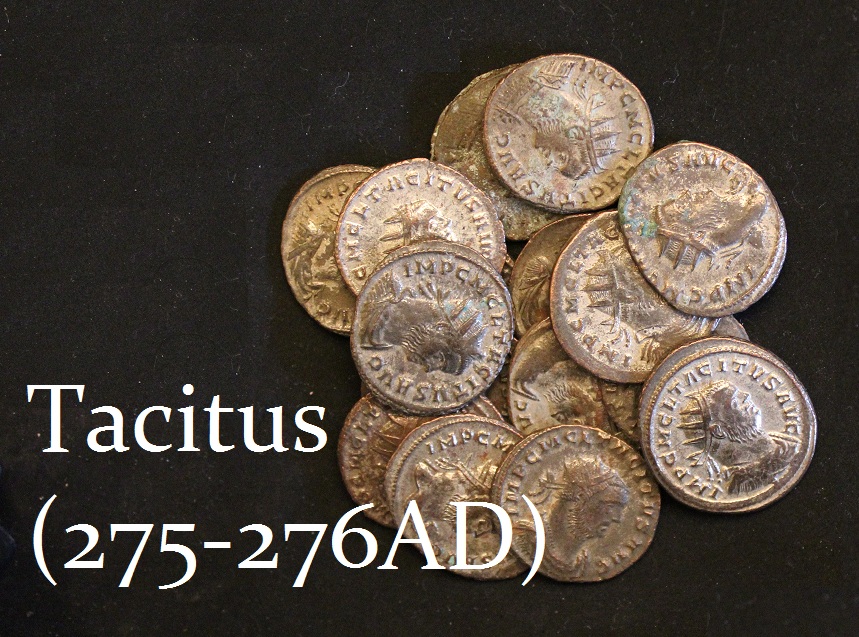 Mints: Rome; Lugdunum; Arelate (?); Ticinum; Siscia; Serdica; Cyzicus; Antioch; Tripolis.
Obverse legends:
IMP C CL TACITVS AVG
IMP C M CL TACITVS AVG
IMP C M CLA TACITVS AVG
IMP C M CL TACITVS P F AVG.
---
Note: the mints lowered the weight of the gold to pre-Aurelian reforms.
DENOMINATIONS
AU Double Aureus (6.54 grams)
AU Aureus (4.61 grams)
Æ Antoninianus
Æ Denarius
Æ Quinarius
Æ As
---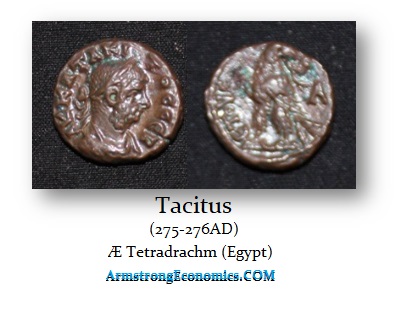 Æ Tetradrachm (Egypt)
---
The Monetary History of the World
© Martin A. Armstrong