Quintillus

Brother of Claudius II
Emperor 270 AD
---
Marcus Aurelius Claudius Quintillus was the younger brother of the famous Claudius II Gothicus. Following the death of his brother due to the plague, Quintillus was proclaimed Emperor by his troops at Aquileia. After only a brief period of undisputed power, he was challenged by the ambitious general Aurelian, who had been proclaimed Emperor by the legions at Sirmium. Faced with overwhelming odds and the military experience of Aurelian, Quintillus' troops deserted him, and he then committed suicide.
---
Monetary System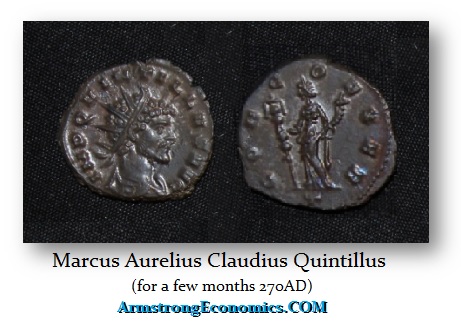 Mints: Rome; Milan; Siscia; Cyzicus
Obverse Legends:
IMP QVINTILLVS AVG
IMP C M AVR CL QVINTILLVS AVG
---
DENOMINATIONS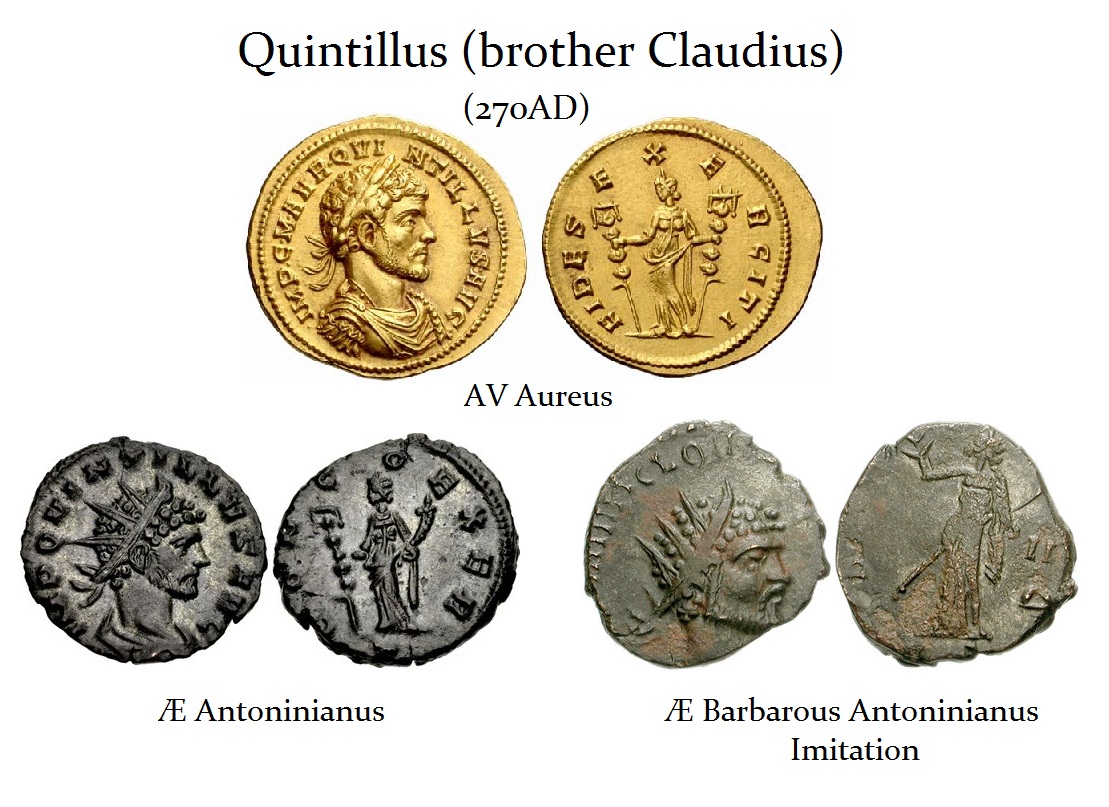 AU Aureus (5.40 grams)
Æ HEAVY Antoninianus (4.10 grams)
Æ Antoninianus (3.4-2.3 grams)
Æ Tetradrachm (Egypt)
Note: The difficult times of this period are reflected in the quality of the coinage. The Antoninianii are particularly of poor quality. The strikes are rarely full and the coins themselves are usually irregular in shape and form.
---
Barbarous Radiates
Barbarous radiates are unofficial counterfeits or imitations of coin types of the Roman Antoninianii. The term 'barbarous coinage' of the 3rd century refers to imitative coins that are typically crude in style. Their origin stems from the use of Roman coins outside the empire, and as a result, there was a high demand that was not often met. Consequently, the shortage of official coinage was compensated by the underweight strike of imitative coinage, but there was no real intrinsic metal value.
---
COLONIAL
Æ Tetradrachm (Egypt)
---
Monetary History of the World
©

 Martin A. Armstrong