Carinus

283 – 285 AD
---
Marcus Aurelius Carinus was the elder son of the Emperor Carus born about 249 – 250 AD. During the spring of 283AD, Carinus was given the rank of Caesar shortly after his father's accession to the throne. Carinus remained behind in Rome in the West when his father and younger brother, Numerian set out for the Eastern frontier. Carinus was then left in charge of the administration of the Western provinces. Meanwhile, his father had been successful in driving back the Persian threat in the East. However, before he could expand on his victory, Carus was struck dead by lightening. Carinus and his brother were raised to the rank of Augustus during the late summer of 283 AD.
His brother Numerian was slowly making his way back to Rome with his legions. In November 284 AD, he was discovered murdered in his litter. This then left Carinus as sole emperor of Rome.
The death of Carus and Numerian prompted the attempted rebellion in the Balkans by late 284 AD. A usurper appeared, Marcus Aurelius Julianus, who was proclaimed emperor in Pannonia. Carinus set out in early 285AD to meet the challenge of this new threat that was now advancing upon Italy. Carinus confronted Julianus near Verona and soundly defeated this usurper. However, a more serious threat was now coming from the army of his brother. Diocletian who was commander at the time, was proclaimed emperor. He had been the former governor of Moesia and commander of the Praetorian body guard. Carinus move to meet this new threat from Diocletian and the Eastern legions. Carinus' forces outnumbered those of Diocletian and at the moment when victory was near, Carinus was was murdered by one of his own officers.
According to Historiae Augusta, Carinus was a bisexual corrupter of youth, had nine wives and forced himself upon the wives of others. This is most likely propaganda put forth by Diocletian. Nonetheless, there is perhaps some truth to this story. Carinus was murdered for his seduction of the wives of some of his soldiers. The account of his having nine wives is most likely untrue since Magnia Urbica was the only wife for which coinage was struck. No doubt, he was not a well liked man. Eutropius Breviarium (IX.19) also states that he was the seducer of the wives of nobles and that he was a cruel and vindictive person.
Carus, Carinus, Numerian and Magnia Urbica were officially condemned after their deaths. Their inscriptions were also erased from Rome. Thus, with the death of Carinus, the empire fell into the hands of Diocletian who would make the most bold reforms ever in hopes of bringing to an end, the past 50 years of crisis and turmoil within the empire.
---
Monetary System
Mints: Rome; Lugdunum; Ticinum; Siscia; Cyzicus; Antioch; Tripolis; unidentified mint.
Obverse Legends:
as Caesar
CARINVS NOBIL CAES
IMP CM AVR CARINVS NOB C
M AVR CARINVS NOB CAES
as Augustus
IMP CARINVS P F AVG
IMP C M AVR CARINVS AVG
IMP C M AVR CARINVS PF AVG
---
DENOMINATIONS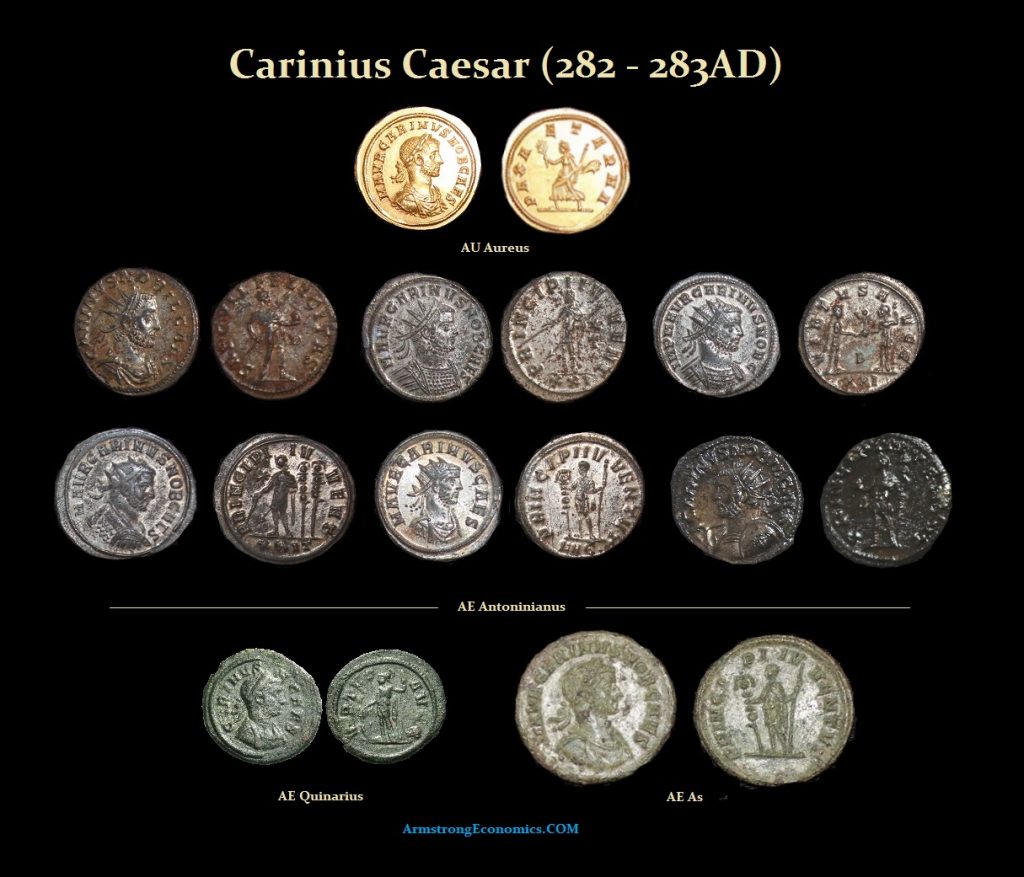 As Caesar
AU Aureus (4.91 grams)
Æ HEAVY Antoninianus
Æ Antoninianus
Æ Denarius
Æ Quinarius
Æ As
Æ Semis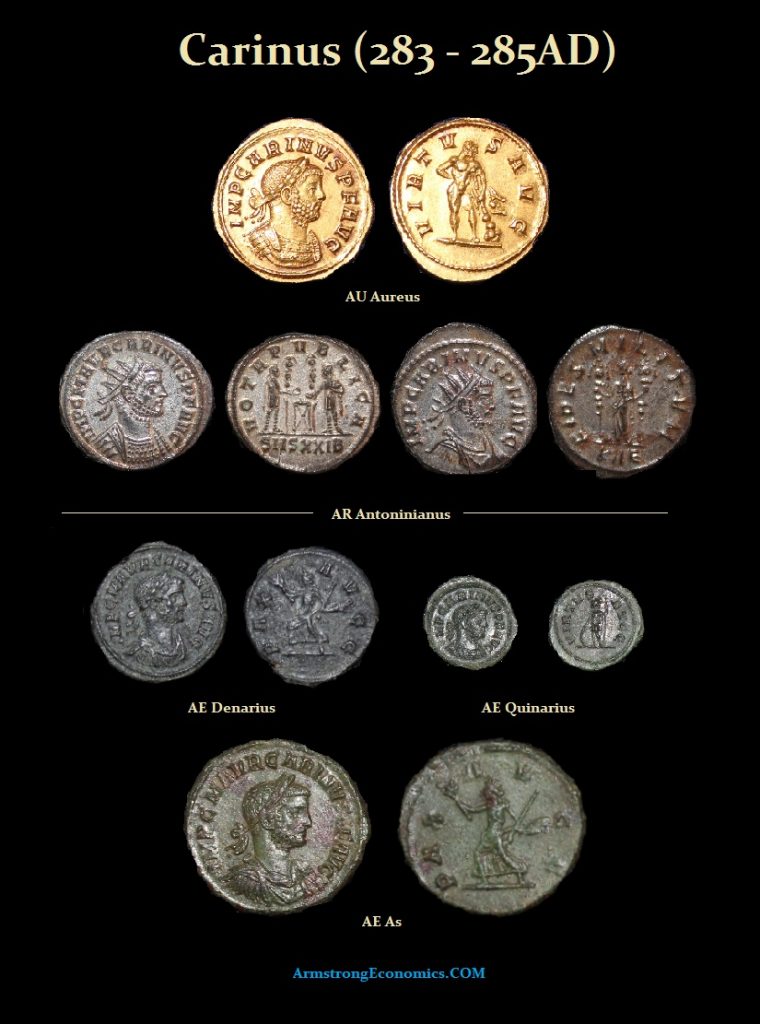 As Augustus
AU Aureus (4.31 grams)
Æ HEAVY Antoninianus
Æ Antoninianus
Æ Denarius
Æ Quinarius
Æ As
Æ Semis
---
Egypt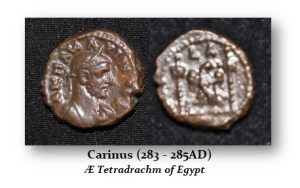 Æ Tetradrachm
---
Monetary History of the World
©

 Martin A. Armstrong