GETA

209-212 AD
Son of Septimus Severus
Co-emperor & Brother Caracalla
---
Publius Lucius Septimius Geta was the younger son of Emperor Septimius Severus and Julia Domna and the brother of Caracalla. Geta was younger than his brother by only one year. He traveled with his family during the Parthian War in 197 AD and, the following year, was given the rank of Caesar, while his brother received the greater title of Augustus.
After the Parthian war, Geta visited various parts of the Empire over six years. In 205 AD, Geta served in the consulship along with his intensely jealous brother Caracalla. It appears that at this point, what had been a rivalry degenerated into outright hatred. As a child, Severus always favored his son Caracalla over Geta, which certainly did not help matters for Geta at all.
Caracalla was married to the daughter of the Prefect of the Praetorian Guard, Fulvius Plautianus. This was a situation that intensely bothered Caracalla. In fact, he vowed to have her killed when he became Emperor. Caracalla's hatred for his brother seems to have intensified following the murder of Plautianus, in which Caracalla was most likely the mastermind. While Severus did what he could ease the situation and his wife Julia's bequest, his sons lived as bitter enemies.
Geta served yet another consulship with Caracalla in 208 AD. When his father traveled to Britain, Geta was accompanied by his brother and parents. In 209 AD, Geta was raised to the equal rank of Augustus with his brother and became administrator of the provinces in the isles while Severus and Caracalla marched against the Caledonians.
The imperial family remained in Eburacum (York) until 211 AD, when Severus eventually died. Shortly before his death, Severus implored his two sons to make peace, but their hatred had existed far too long to be reversed at this point.
Severus' will stipulated that both his two sons should serve as co-rulers. At first, they worked in this fashion, yet never spoke or discussed matters with each other. After returning to Rome, the palace was physically divided in two so they would not have to see one another. Julia had hoped that this would at least help to avoid open hostilities. This system led to yet another childish proposal to divide the Empire between them, but Julia would not allow their dispute to escalate to that extent.
Caracalla worked to gain the upper hand, and he began to act as if he were indeed the sole ruler of Rome. Without consultation, Caracalla dismissed Geta's aides in the court and began plotting his murder. After ending one such plan, Caracalla agreed to meet his brother in his mother's apartment in February 212 AD. Caracalla insisted that Geta give up his office of Joint Emperor. It was there, in his mother's apartment, that Caracalla ordered his soldiers to murder Geta in front of his mother. Geta died in his mother's arms.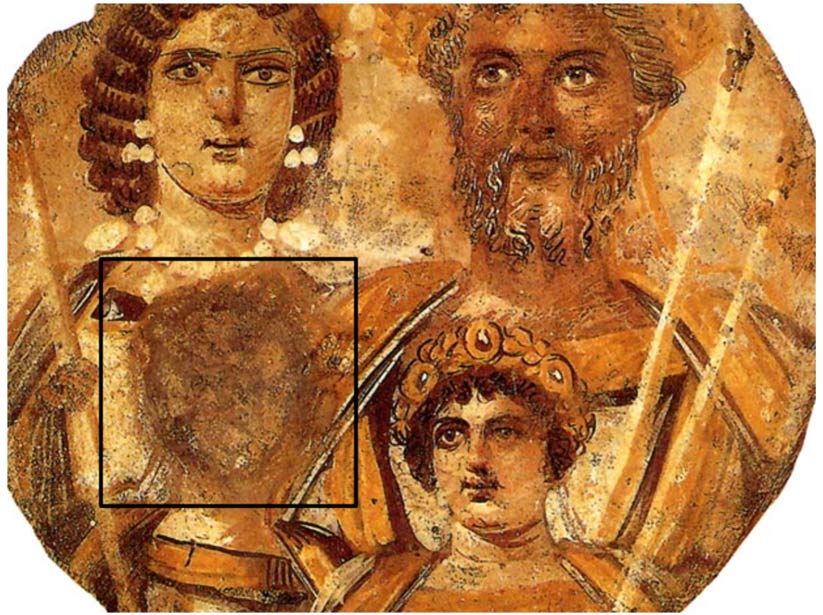 Caracalla claimed that Geta had been plotting his murder to keep the support of the Praetorian guard. While Caracalla did provide Geta with a proper funeral, he then ordered that Geta's name be stripped from all monuments and his image removed throughout the Empire. We see his face rubbed out on images. Caracalla then ordered the massacre of no less than 20,000 of Geta's supporters and used the opportunity to murder his wife as well.
---
Titles and Powers 198-212 AD
Consulship Tribunician Power Imp Other
198 —————— CAESAR
199
200 —————— PONTIFEX.
201
202
203
204
205 COS.
206
207
208 COS.II.
209 TR.P. IMP AVGVSTVS.
210 TR.P.II. BRIT.
211 TR.P.III. P.P.
212 TR.P.IIII.
Geta became TR.P.II. on January 1st, 210 AD, and his tribunician power was sub sequently renewed each year on that date.
---
Monetary System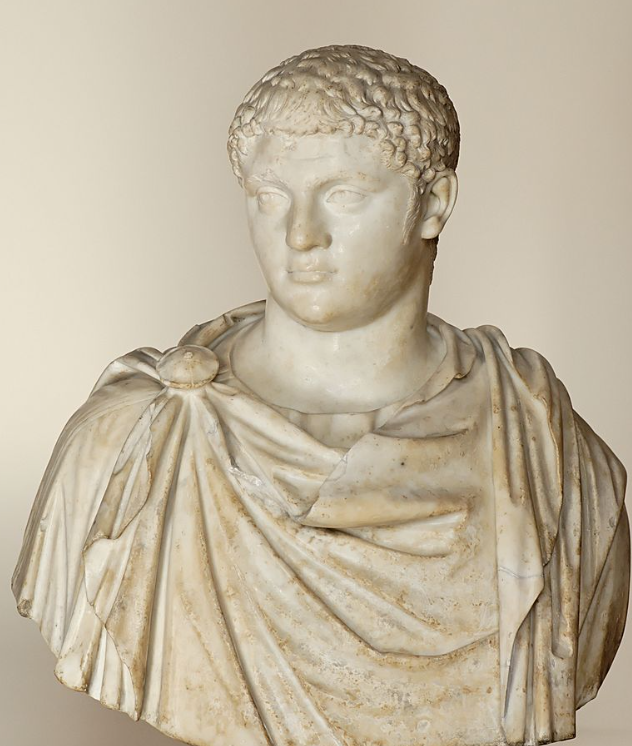 Mints: Rome
Obverse Legends:
As Caesar:
L SEPTIMIVI GETA CAES
P SEPT GETA CAES PONT
P SEPTIMIVI GETA CAES
As Augustus:
IMP CAES P SEPT GETA PIVI AVG
P SEPT GETA PIVS AVG BRlT
P SEPTIMIVI GETA PIVS AVG BRlT
The portraiture of Geta on his coinage closely follows his physical development from a young child through adolescence to early manhood, where his portrait takes on the appearance of a mature man. From 209 AD, Geta's portrait shows him with a full beard.
---
DENOMINATIONS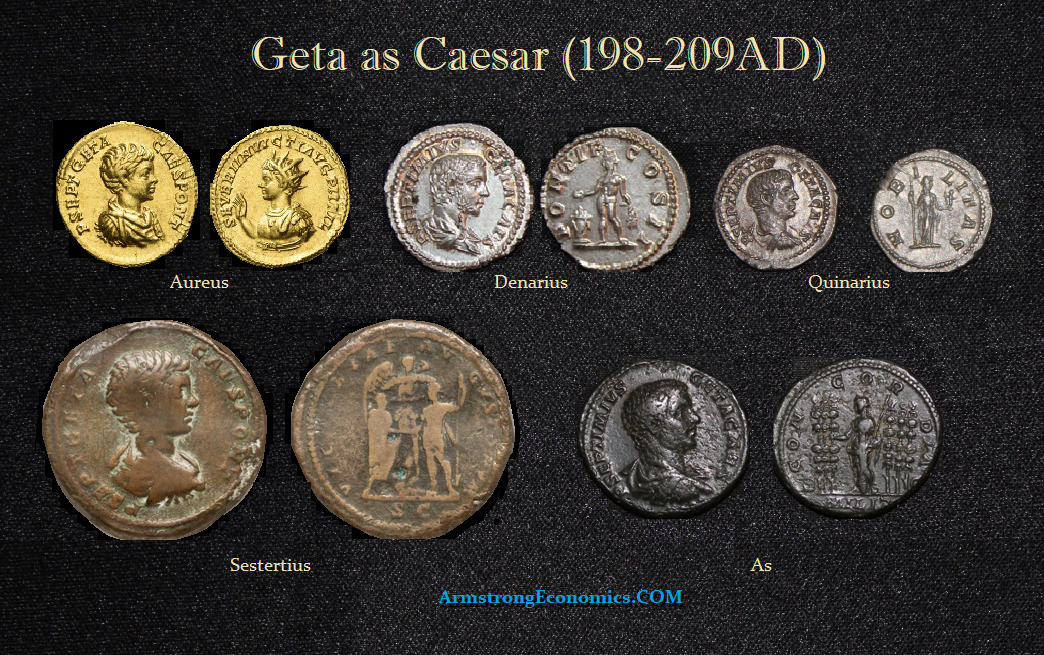 As Caesar:
AU Aureus (6.54 grms)
AU Quninarius
AR Denarius (3.54 grms)
AR Quinarius
Æ Sestertius
Æ Dupondius
Æ As
---
Dynastic Issue
AU Aureus (Bare had rt/Caracalla left Radiate Crown)
AU Denarius (Bare head rt as Caesar/Septimius & Caracalla facing
---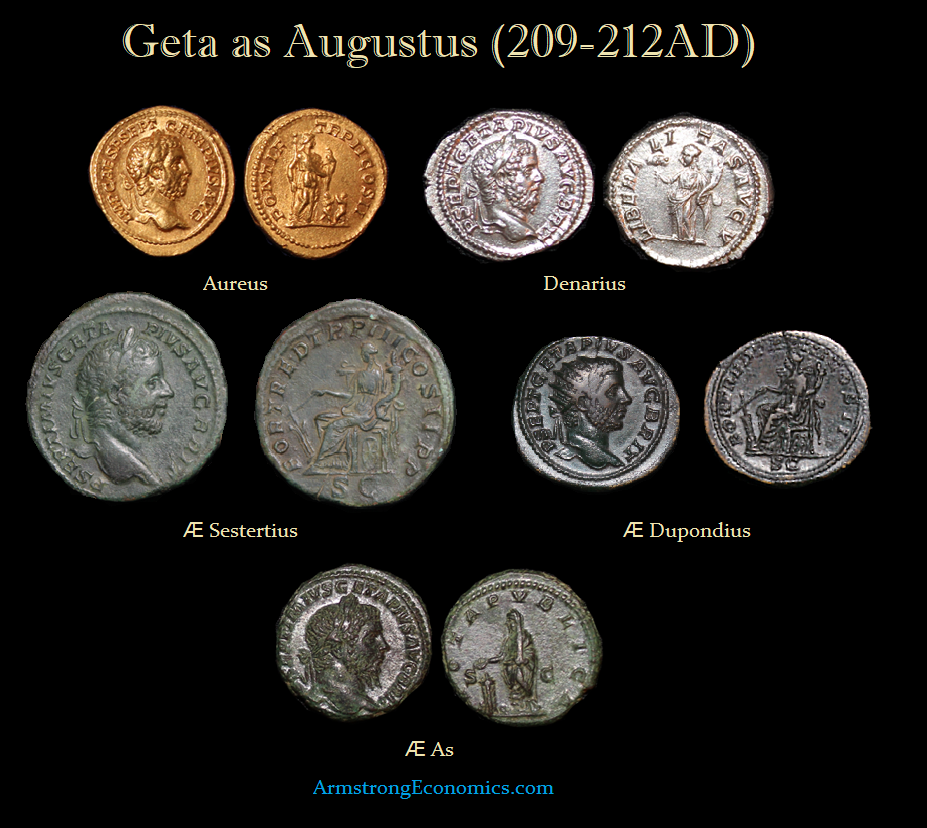 As Augustus:
AU Aureus (6.54 grms)
AR Denarius (3.54 grms)
Æ Sestertius
Æ Dupondius
Æ As
Invasion of Scotland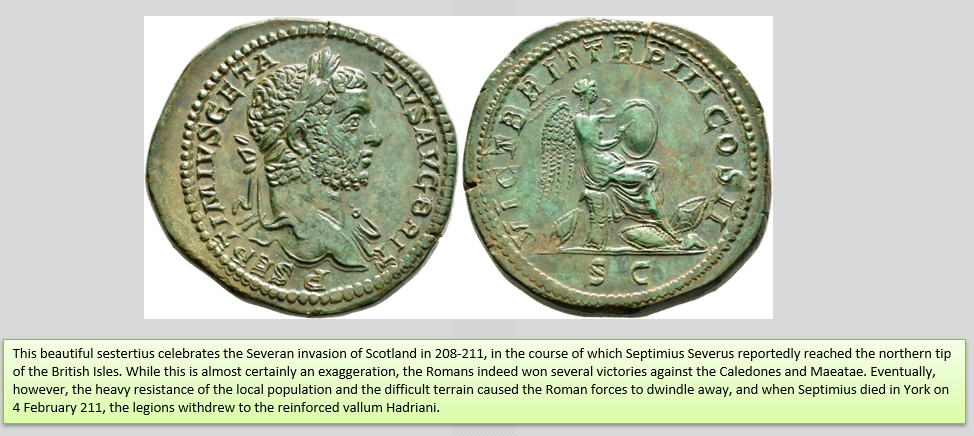 ---
COLONIAL
As Caesar

CAESAREA
AR Didrachm (Caesarea)
SYRIA
AR Tetradrachm (Syria)
AR Tetradrachm (ANTIOCH) with beard
AR Tetradrachm (ANTIOCH) youth
EGYPT
AR Tetradrachm (Egypt)
As Augustus
CAESAREA
AR Didrachm (Caesarea)
SYRIA
AR Tetradrachm (Syria)
AR Tetradrachm (ANTIOCH)
EGYPT
AE Tetradrachm (Egypt)
---
The Monetary History of the World
 © Martin A. Armstrong