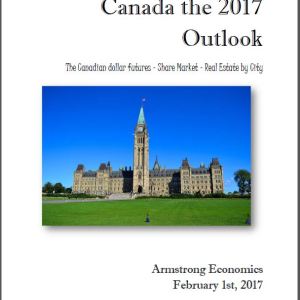 2017 Canadian Outlook Report
$150.00
Prepare for the year ahead by purchasing the 2017 Canadian Outlook report.
This comprehensive special report explores the future of the Canadian dollar, share market (TSX), and real estate market based on Martin Armstrong's models. Additionally, the report discusses the political actions of the Trudeau administration that will impact the Canadian economy moving forward.
———————————————————————————————-
Product Delivery:
Once your order is placed, the report(s) will be available for download via the confirmation page. In addition, you will have an order confirmation email delivered that will include a link to download the report. Please keep in mind, this is a limited use link to download the report, and the charge on your credit card may reference AE Global Solutions, Inc. (owner of Armstrong Economics).
For clarification, our reports are digital download – there will be NO hardcopy reports mailed. Also, given the digital nature of these reports, there are no refunds offered. Please consider this before you purchase.
Thank you for your business!
Product delivery
Please Note: This is a Digital Copy of this publication.