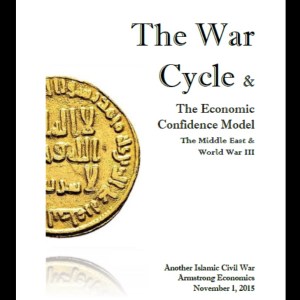 The War Cycle
$75.00
In this report, we discuss the historic origin of the seemingly endless battle between the Sunnis and Shiites. We will discuss the varying beliefs between the two groups, as well as the sociologic and economic implications that continue to plague the region today.
This event may prove to be the start of a major international conflict that could potentially escalate into the next world war. This report will provide readers with a thorough understanding of the events unfolding in the Middle East, including how it may impact our future.
———————————————————————————————-
Product Delivery:
Once your order is placed, the report(s) will be available for download via the confirmation page. In addition, you will have an order confirmation email delivered that will include a link to download the report. Please keep in mind, this is a limited use link to download the report, and the charge on your credit card may reference AE Global Solutions, Inc. (owner of Armstrong Economics).
For clarification, our reports are digital download – there will be NO hardcopy reports mailed. Also, given the digital nature of these reports, there are no refunds offered. Please consider this before you purchase.
Thank you for your business!
Product delivery
Please Note: This is a Digital Copy of this publication.