Introducing Socrates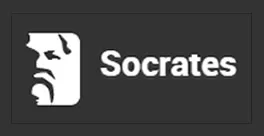 Ask-Socrates is an innovative, software-as-a-service platform offering unique perspective and tools intended to help individuals and organizations better research and interpret the global economic and political environment. Utilizing proprietary models, artificial intelligence and extensive database, this platform is capable of observing every market around the world to track changes in international capital flows and concentration, with indicators and analysis not found elsewhere. Our intent is to ultimately offer multiple levels of membership to Ask-Socrates to accommodate the different needs of customers.
Initially launched in 2016 as an entry level 12-month subscription to test the ability to serve a greater user base, globally, and just like the information found on ArmstrongEconomics.com, and in our newsletters, reports, and conferences, the Ask-Socrates platform is not an individualized trading advisory service, nor is it a brokerage or money management service. This is a simply a research and information system to help broaden perspective, offering a supplement to other tools and information out there.
Given the positive feedback and high demand from our 2016 launch, we have undertaken a project to update the system (new servers, new payments systems, new data providers, new membership levels, etc). While this won't all take place at once, it is a big endeavor – so we will update everyone once these updates are in place, which will most likely be phased in over first and second quarters of 2017 – for now, free trials have continued and we hope to have at least the entry level membership back up very quickly. Please visit Ask-Socrates.com.
---
Levels of Service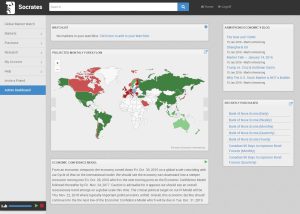 The entry level membership is targeted to the broadest group of Armstrong Economics followers, and the general public at large – many of whom are not professional traders, rather, they are everyday people with different backgrounds looking to stay informed on global, macroeconomic considerations that may be influencing a given market's trend and direction. They wish to roll up their sleeves, do some research to better piece together the information found from Armstrong Economics with insights found only on the Ask-Socrates service.
As mentioned above, many of our followers know we've also been working to build a second level of membership intended to serve folks who may be looking for more – some who want to go into greater detail, whether they are passive investors, day traders or financial professionals. This level of service will serve as another input to supplement their curious, information seeking minds – supplementing multiple third-party tools and information already at their disposal. This has been a long process with a small team overcoming many obstacles and we are excited to be close to the finish line – and we will notify everyone once we are there!
The original entry (aka "Standard") level currently includes:
Global Market Watch on a pre-defined set of markets (pattern recognition models)
Pricing charts on all timing levels for those same markets
A weekly brief textual summary analysis of identified long-term trends
Access to private blog posts
The next level of membership service may include (in addition to the above)*:
Global Market Watch on a broader set of pre-defined set of markets
Ability to purchase detailed D/W/M/Q/Y textual analysis, along with proprietary forecasting arrays, price reversals, and interactive technical analysis charts for any given market
Access to unique private blog posts (some not available to entry level)
*We are still establishing pricing and packages for the new level and will make an announcement once we have further information.
---
For our Profession Level, we will be adding portfolio analysis carried out entirely by the computer.
---
In order to access, you must go to www.Ask-Socrates.com (Socrates not accessible through ArmstrongEconomics.com).
If you have any questions about our services, please contact support@ask-socrates.com.