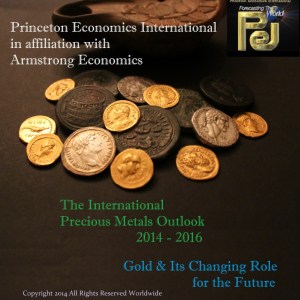 The International Precious Metals Outlook 2014-2016
$400.00
As mentioned, everyone who purchases the 2014 Precious Metals Report will receive a complimentary update. This update is separate from the new 2015 Precious Metals Report, which will include information on the impending gold rally and the overall future outlook for precious metals.
———————————————————————————————-
Product Delivery:
Once your order is placed, the report(s) will be available for download via the confirmation page. In addition, you will have an order confirmation email delivered that will include a link to download the report. Please keep in mind, this is a limited use link to download the report, and the charge on your credit card may reference AE Global Solutions, Inc. (owner of Armstrong Economics).
For clarification, our reports are digital download – there will be NO hardcopy reports mailed. Also, given the digital nature of these reports, there are no refunds offered. Please consider this before you purchase.
Thank you for your business!
Product delivery
Please Note: This is a Digital Copy of this publication.