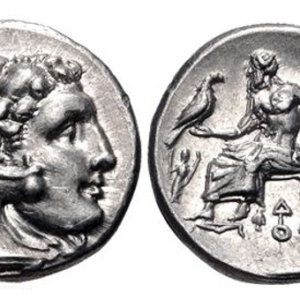 Alexander the Great Drachms
$350.00
The first One-World Currency ever to be issued in the West – those of Alexander the Great. The design of these coins displays the head of Herakles right, wearing a lion skin and on the reverse appears Zeus Aëtophoros seated left.
This hoard of Alexander the Great drachms is of higher quality than typically found and are from a hoard that was purchased for our study of the World Monetary System. These are the ONLY One World Currency to have EVER been created in the Western World. Not even Rome was able to achieve a unified monetary system throughout its empire. That distinction belongs ONLY to Alexander the Great.
Quantities are limited 
ORDER RESTRICTION: Due to limited quantities, sales are restricted to one copy per order.
Product Delivery:
Please indicate in the Additional Information field if the shipping address is different than the billing address.
Please allow up to 7 business days for order processing and shipment. Please note we cannot guarantee orders will be received in time for Christmas.
Product delivery
Please Note: This is a Digital Copy of this publication.
Out of stock