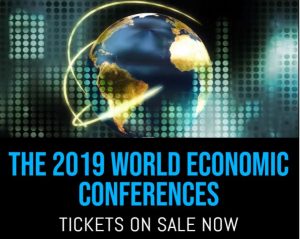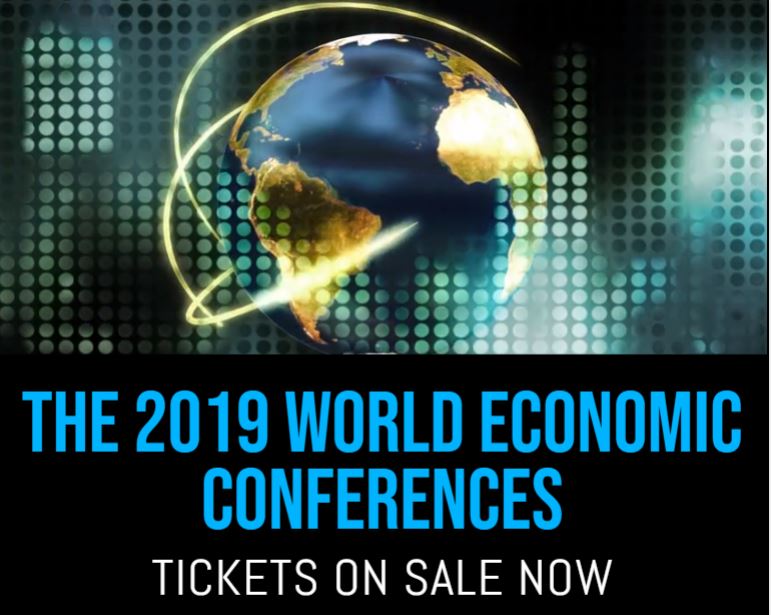 Event Information
The 2019 World Economic Conferences (Rome & Orlando)
2019 Rome WEC Video On Demand – NOW AVAILABLE! Click Here
The 2019 World Economic Conference (Orlando)
When: October 25-26, 2019, Friday-Saturday
Where: Orlando, Florida, at The Hilton Bonnet Creek Hotel
Agenda: Friday and Saturday – 9 AM to 5 PM (a detailed agenda will be provided at a later date)
Ticket Information:
What is included with my ticket?
Standard Admission: General admission includes access to the full event and all relevant conference materials. Attendees will be provided with breakfast and lunch on both days of the event along with entrance to our networking cocktail party featuring passed h'orderves and an open bar. A full recording of the conference and PowerPoint presentations will also be provided shortly after the event. A discounted room block rate will be provided to all attendees as well on a first come, first served basis.
Orlando Priority: In addition to everything mentioned above, Priority ticket holders will receive early access to the conference room in Orlando (seating is on a first come, first served basis) as well as in-room registration (for those staying onsite at the Hilton Orlando Bonnet Creek). A 25% coupon for the Rome WEC video will also be provided and 50% off the Socrates Training Session ticket (see below details). * Ticket option only Available for ORLANDO.
VIP (people attending both conferences): Guests who attend both World Economic Conferences will receive additional perks when attending the events to further enhance their experience (see below details). For those who already attended Rome, discounted upgrades are still available. Send an email to Conferences@armstrongeconomics.com for more information.
At the Orlando WEC, our VIPs will be invited to attend a private cocktail party attended by Martin Armstrong. For added convenience guests may skip the check-in line as in-room registration will be provided to guests staying onsite at the Hilton Orlando Bonnet Creek Hotel. The first few rows of the conference room will be specifically reserved for those clientele who also attended Rome, but exclusive to Orlando we will also be hosting a breakfast on the second day for our VIP attendees attended my Martin Armstrong. Additionally, VIP attendees will receive full slides and videos of both WECs and a complimentary ticket to attend the new Socrates Training Session to be held on Thursday (Oct 24th) from 6-9pm *
NEW! Socrates Training Session: We are excited to announce we are adding an optional Socrates Training Session to be held on Thursday, October 24 from 6-9pm. We are working with an outside firm to help develop the content for this session (more details to come as we get closer to the event). As mentioned, this new Socrates Training Session is optional and requires an additional ticket purchase – but due to the limited space we've secured at the hotel for this bonus session, the tickets are only available to be purchased by WEC attendees! With this ticket purchase, you receive the video and materials from the session as well, however, please only purchase a ticket for the session if you plan to attend in person. For those interested but who cannot attend in person we will make the video of this session available for purchase after the event (timing and pricing TBD).
For 2019 Orlando WEC Priority Level ticket holders, you will receive a 50% discount ($125 value) on a ticket for the optional Socrates Training Session on Thursday evening. Please look out for this separate ticket option at the discounted rate.
For our 2019 Orlando VIPs (those who also attended / paid for "Both 2019 Events" (Rome & Orlando) ticket), the optional Socrates Training Session will be included complimentary at no additional charge or ticket purchase required. Regardless, you will still receive the video recording and materials as a VIP even if you can't attend the session in-person.
Separate from this new optional Socrates Training Session, we will still conduct Socrates-specific sessions during the lunch breaks on both days of the event – this is part of the WEC event and no additional purchase is required if you have already purchased a WEC ticket. These lunch sessions are not "training" sessions, but they will cover general Socrates updates and topics for the larger audience and should be complimentary, not duplicative, to the new optional Socrates Training Session on Thursday night.
Who do I contact with questions?
If you have any questions, please reach out to us at Conferences@ArmstrongEconomics.com
For more information on each ticket option click the green "GET TICKETS" button and you will be directed to the Registration Page.